The Painted Lady earned Best of Presentation for the second straight year at the annual Taste of the Umpqua. The competition is quite steep with 30 vendors represented. This year the theme Wendi chose was Peter Pan. Over 700 tastes were put out for attenders to try. Quiche' lorraine was a hit as well as the turkey and cheese croissants. Wendi's desserts were popular with oreo cheesecake, fresh strawberry dreams pies, old fashion carrot cake and chocolate trifle.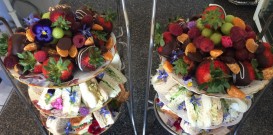 Queen or Princess Teas are two of the main experiences at the Tea Room. They are available by reservation (541-733-7646) and are perfect for your special party or luncheon with family or friends.
The Simon Selig room is our most spacious room in The Painted Lady Bed & Breakfast.  It features a truly comfortable queen size bed and nicely draped windows with great views of Myrtle Creek.   Retire to a spacious well laid out room where you can relax and plan out your next day.  Wake up to an elegant decor with the delightful aroma of a freshly prepared breakfast.  A night's stay in the Simon Selig room with a delicious five-course breakfast is $135.  The room has it's own air conditioning for the warmer days and electric fireplace for cold evenings.
Visit Henrietta's Room