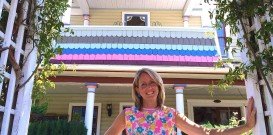 The Painted Lady is an expression of your hostess, Wendi Jocoy. Though I (Wendi's husband), helped with the remodel and stay busy with maintenance and repairs, The Painted Lady is the result of the God-given talents of Wendi Jocoy. Every room, wall, window and floor space all exude Wendi's ability to creative with class, charm and grace. I am embarrassed to admit I underestimated the depth of Wendi's ability in preparation and presentation of her house and food. The reviews both on-line and in our on-site guestbook(s) have established a record of her ability to reach the senses of her guests in the most amazing ways. I am honored to present to you some of my favorite pics of my wife at her Bed & Breakfast and Tea Room and give you have a window into the beauty and charm of my wife. (Click on each picture to get a larger image).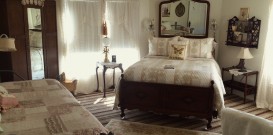 The Simon Selig room is our most spacious room in The Painted Lady Bed & Breakfast.  It features a truly comfortable queen size bed and nicely draped windows with great views of Myrtle Creek.   Simon's room is decorated with vintage furniture and items.  Wake up to an elegant decor with the delightful aroma of a freshly prepared breakfast.  A night's stay in the Simon Selig room with a delicious five-course breakfast is $135 (including tax).  The room has it's own air conditioning for the warmer days and electric fireplace for cold evenings. Call 541-733-7646 to make a reservation.
Visit Henrietta's Room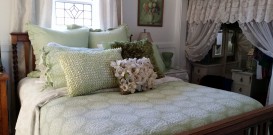 Minnie's Room has plenty of natural lighting and features a barley twist full-size bed.  The room is decorated with mostly early English furniture giving this bed & breakfast room a comfortable, cozy feel.  Wake up refreshed to a pleasant pallet of colors that inspire your day along with the tantalizing aroma of a delightful homemade breakfast.  A night's stay in Minnie's Room with a delicious five-course breakfast is $125 (includes tax). Call 541-733-7646 to make a reservation.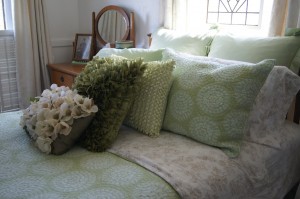 Visit Simon Selig's Room