The Painted Lady earned Best of Presentation for the second straight year at the annual Taste of the Umpqua. The competition is quite steep with 30 vendors represented. This year the theme Wendi chose was Peter Pan. Over 700 tastes were put out for attenders to try. Quiche' lorraine was a hit as well as the turkey and cheese croissants. Wendi's desserts were popular with oreo cheesecake, fresh strawberry dreams pies, old fashion carrot cake and chocolate trifle.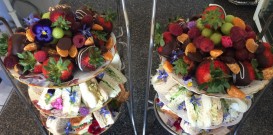 Queen or Princess Teas are two of the main experiences at the Tea Room.With over 100 princess dresses, hats, gloves, boas, tiaras and jewelry in the downstairs Tea Room, we are ready to make your event unforgettable. Wendi's Princess Teas include: chocolate dripped strawberries, fruit, two different kinds of scones, assortment of finger sandwiches and tea, coffee or lemonade (the Queen's Tea adds Quiche and Wendi's specialty desserts). Our historic home, yard, and garden provide the perfect setting for your party. Call Wendi at (541) 733-7646 to reserve your Princess or Queen'sTea Party.
The Simon Selig room is our most spacious room in The Painted Lady Bed & Breakfast.  It features a truly comfortable queen size bed and nicely draped windows with great views of Myrtle Creek.   Simon's room is decorated with vintage furniture and items.  Wake up to an elegant decor with the delightful aroma of a freshly prepared breakfast.  A night's stay in the Simon Selig room with a delicious five-course breakfast is $135.  The room has it's own air conditioning for the warmer days and electric fireplace for cold evenings.
Visit Henrietta's Room