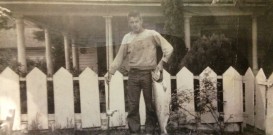 Helene Selig —
Simon Selig came to Oregon from Prussia sometime in the 1860s where he managed a general mercantile store. He married Helene Solomon in 1868 and this union produced seven children.  He later moved to Myrtle Creek to take over management of the Marks-Wollenberg store and in 1885 became postmaster of Myrtle Creek.  Simon passed away in 1893 and is buried in the local I.O.O.F. cemetery. Simon's son, Nathan, became town mayor in 1905. There is an interesting article in the Pioneer History describes Nathan's wedding day to Reatha McCarty (her father was a local doctor) in the home of  his mother Helene in 1906. Nathan owned a merchandise store in Myrtle Creek which was later sold to Henry Adams in about 1910. That building was destroyed by fire and rebuilt with concrete in 1915 one lot down. The building still stand as the Rice Bros. & Adams building.  Nathan also had a store in Canyonville.
We don't believe Simon lived long enough to see the completion of his home in 1905 but history shows that many people had many memories in it: Cordelia Rice (1920's), Ireland family (1940-1953) and Agee family (1972-2003).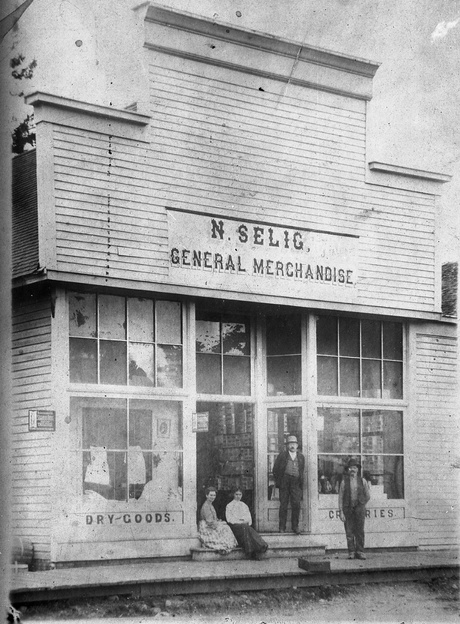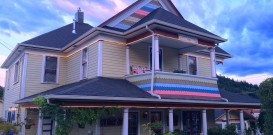 Twilight is perfect at The Painted Lady. The sun fades over the mountains and the sky often begins turning colors only to give way to our gentle LED lights glowing around our historic B & B. As you make your way upstairs you will enjoy Wendi's creativity with soft, peaceful lights. There is a calmness that comes from being located in a small town and with a hostess that gives such detail to lights and colors. We really think you will enjoy the transition from the busyness of the day to the coziness of night at our B & B…. preparing yourself for a wonderful night sleep in our extremely comfortable beds.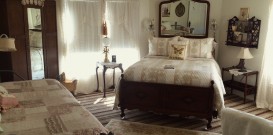 The Simon Selig room is our most spacious room in The Painted Lady Bed & Breakfast.  It features a truly comfortable queen size bed and nicely draped windows with great views of Myrtle Creek.   Simon's room is decorated with vintage furniture and items.  Wake up to an elegant decor with the delightful aroma of a freshly prepared breakfast.  A night's stay in the Simon Selig room with a delicious five-course breakfast is $145 (including tax).  The room has it's own air conditioning for the warmer days and electric fireplace for cold evenings. Call 541-733-7646 to make a reservation.
Visit Henrietta's Room