The warmth and glow of Christmas is on full display at The Painted Lady B & B and Tea Room in Myrtle Creek, Oregon. Though Innkeeper, Wendi Jocoy decorates her historic home Valentines Day, Easter, 4th of July as well as Thanksgiving, there is no question that she goes all out for the Christmas holiday. Both inside and outside, the details of Wendi's creativity during the Christmas season are vivid and eye-catching. The feeling of being at her B & B and Tea Room bring warmth and comfort to the soul.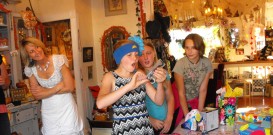 We recently hosted one of the greatest parties we have ever seen. It began with the upstairs B & B full of girls for the weekend (and a few chaperones:) The afternoon party was amazing! With perfect weather, lots of presents and an amazing meal, the girls also hit the lawn and played games. So fun! The pictures speak for themselves – everyone had a blast and we felt very honored to host this unique party. That's what we do best at The Painted Lady B & B and Tea Room.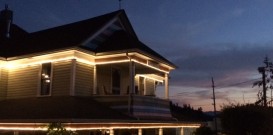 Twilight is perfect at The Painted Lady. The sun fades over the mountains and the sky often begins turning colors only to give way to our gentle LED lights glowing around our historic B & B. As you make your way upstairs you will enjoy Wendi's creativity with soft, peaceful lights. There is a calmness that comes from being located in a small town and with a hostess that gives such detail to lights and colors. We really think you will enjoy the transition from the busyness of the day to the coziness of night at our B & B…. preparing yourself for a wonderful night sleep in our extremely comfortable beds.