Click on the menu to enlarge.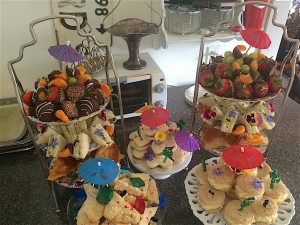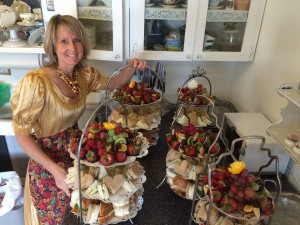 Here is a review posted on Trip Advisor of our Tea Room:
Oct. 6, 2016
Dessert Can be First !" ——5 of 5 stars
Enjoyed our Oct-2016 gathering of the MC & TriCity Chambers of Commerce members.
We have monthly meetings, please see our website online, if interested and join us, please.
What a great venue…the upstairs of The Painted Lady is beyond spectacular BUT
the Tea Room is completely charming.
Up to the wainscoting…several 1800's styled rooms are deep in decor.
Pink & ivory tones layered in collection of femininely Vintage & Victorian Memorabilia.
Some of the groups's more adventurous members, including our President, donned their choice of T~Room " hat~wear "for this special occasion.Indulging the child, in each of us…is a great thing to experience.
My dessert was Top of The Mark.
The Carrot Cake. Hhhmmnnn:)
* exceptionally fresh
* portion was just
* most generous one.
Wendy, The Owner & Baker attended to our overflowing group with ease, grace & speed.
The menu,provided us a healthy choice of hot or cold entrees, each made from locally sourced/all organic ingredients. FRESH.
It was evident,
that Ms.Wendy,
also a Chambers member,
had prepared properly, every detail,
for this
6 – 8 pm.ish meeting.
Ty, it was great to be in the house.
https://www.tripadvisor.com/ShowUserReviews-g51984-d2471292…#
Here is a review posted on Yelp from Lindley on her Queen's Tea experience:
An absolute gem in the heart of Myrtle Creek!
My mother and I came down from Roseburg to have the Queen's tea. It was perfect and I was surprised to find such a wonderful place in the little town of Myrtle Creek. Quite unexpected!
Our tea came with chocolate dipped fruit, an assortment of tiny sandwiches, scones, quiche, and an assortment of desserts . We could tell the owner used quality ingredients. Everything was so fresh and delicate. The quiche was the fluffiest quiche I've ever had. I have no idea how she did it but I wish I had the recipe. The desserts were amazing: carrot cake, strawberry ice cream pie, and oreo cheesecake. I usually don't care for cheesecake but this was the best cheesecake I ever had and I could eat a whole one. It was so light and fluffy. We were stuffed by the time dessert rolled around so we had to take those home (except the strawberry ice cream pie!).
Each plate was accented with flowers from the garden: lavender, nasturtiums, violets, and borage. It was absolutely beautiful.
The decor was whimsical and the inside was incredibly clean and dust free- amazing since there was a lot of items inside. Many of the items used for the decor were for sale. I bought three things and they were so reasonably priced.
Take a stroll around the gardens too or have tea outside. It is beautiful and relaxing.
I will be coming back for more and I will be recommending this to friends!
https://www.yelp.com/biz/the-painted-lady-bed-and-breakfast-and-tea-room-myrtle-creek?hrid=1Jq8aRQZhUMLuP2bfbEHtw&utm_campaign=www_review_share_popup&utm_medium=social&utm_source=facebook.com